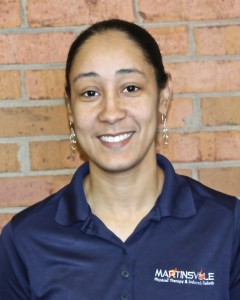 Tiffany DeLoatch, PT, DPT, OCS is a Physical Therapist specializing in orthopedics and neuromuscular rehabilitation. She is a Board-Certified Orthopedics Clinical Specialist (OCS). She is also a certified provider of the Functional Movement System (FMS).
Tiffany holds a Doctorate of Physical Therapy from Elon University. While attending Elon, Tiffany completed clinical rotations at Maria Parham Center for Rehabilitation in Henderson, North Carolina; at St. John Health System in Tulsa, Oklahoma; and at our sister clinic, TheraSport Physical Therapy in Eden, North Carolina. She also completed a 6-month clinical internship at Alamance Regional Medical Center  in Burlington, North Carolina.
Prior to joining our team in Martinsville, Tiffany worked as an outpatient Physical Therapist at our sister company, Danville Orthopedic & Athletic Rehab (DOAR).
A native of Martinsville, Tiffany attended undergrad at Averett University in Danville, where she earned a Bachelor of Science in Sports Medicine/Wellness. While a student at Averett, Tiffany was captain of the women's basketball team and a member of the women's lacrosse team.